My brother loved Voltron growing up.  Our parents bought him the 5 lions which combined to create the 'robot.' For the 80's that was a very cool toy.  And to be honest, I also watched the show.
Fast forward a few years (yeah, I'm getting older) and now our kids and the kids at heart and watch VOLTRON LEGENDARY DEFENDER.  Season 3 just debuted on Netflix.
In the wake of Zarkon's defeat and Shiro's disappearance, the paladins struggle to move forward with no one able to pilot the black lion or the ability to form Voltron. The team must quickly devise a plan as the ascension of Prince Lotor and his generals pulls the team into a perilous game of cat-and-mouse that tests their unity and abilities more than ever before.
We also have some free printable color sheets: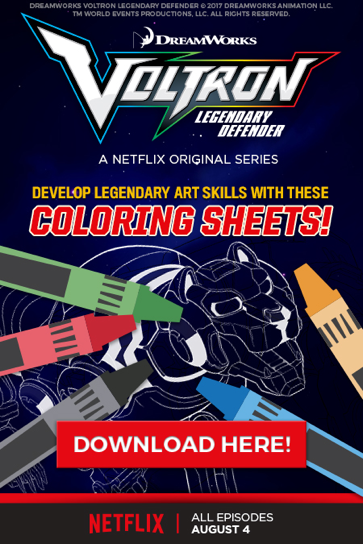 About Netflix:
Netflix is the world's leading Internet television network with over 83 million members in over 190 countries enjoying more than 125 million hours of TV shows and movies per day, including original series, documentaries and feature films. Members can watch as much as they want, anytime, anywhere, on nearly any Internet-connected screen. Members can play, pause and resume watching, all without commercials or commitments.
Did you watch Voltron as a child?  Do your kids share this love?