INTERNATIONAL WOMEN'S DAY 2019 #BALANCEFORBETTER
International Women's Day is celebrated on March 8 every year. It is a focal point in the movement for women's rights. After the Socialist Party of America organized a Women's Day on February 28, 1909, in New York, the 1910 International Socialist Woman's Conference suggested a Women's Day be held annually.
TAKE ACTION
This year's theme is #BalanceForBetter and we are encouraged to take part in the year-long activity of collaboration.  The campaign theme provides a unified direction to guide and galvanize continuous collective action.
Let's build a gender-balanced world:  Balance is not a women's issue, it's a business issue.  Balance at work, government, media coverage, sports and even wealth.
Motivate others: So put your hands out and STRIKE THE #BalanceforBetter POSE and make International Women's Day YOUR day.
Amplify via social media: Post your #IWD2019 message on social media with your "hands out" balance pose.
March 8th this year brings us two amazing female examples of serious girl power.  We will be enjoying both.
CAPTIAN MARVEL
Captain Marvel is in theaters today, March 8th.  And I don't know if Disney/Marvel did this on purpose but I'd sure like to think so.  Captain Marvel is the first true female lead character without any supporting male counterparts.  A friend shared this point:
Black Widow to Iron Man, Nick Fury, and Captain America. Scarlet Witch with Quicksilver or Vision. The Wasp to Ant-Man. The Dora Milaje to Black Panther. All amazing, bad-ass women, all supporting other men in the franchise.
Captain Marvel/Carol Danvers is a nothing will hold me back kind of girl.  Someone who overcomes her problems with the confidence and knowledge that she is one of the universe's most powerful heroes and Earth's mightiest.
For more CAPTAIN MARVEL updates and fun be sure to:
Like CAPTAIN MARVEL on Facebook: https://www.facebook.com/CaptainMarvelOfficial/
Follow CAPTAIN MARVEL on Twitter: https://twitter.com/captainmarvel
Follow CAPTAIN MARVEL on Instagram: https://www.instagram.com/captainmarvelofficial/
Visit the official CAPTAIN MARVEL site here: https://www.marvel.com/movies/captain-marvel
#CaptainMarvel
SHE-RA PRINCESS OF POWER
DreamWorks Animation has assembled the cast, crew and young fans of She-Ra and the Princesses of Power to remind girls around the world they have the power to achieve anything they set their mind to.
In a newly released video, the cast of She-Ra, including Aimee Carrero (Adora/She-Ra), Lauren Ash (Scorpia), Marcus Scribner (Bow), Karen Fukuhara (Glimmer), Merit Leighton (Frosta), Krystal Joy Brown (Netossa) and executive producer Noelle Stevenson open up about what She-Ra and its positive portrayals of women and girls means to them and the impact it has on the young audience who watches the show.
Women Behind the Scenes
Led by Stevenson, She-Ra and the Princesses of Power features a wide variety of female characters brought to life by a diverse voice cast, with an all-female writers room, majority female crew, and a dedication to centering the stories of women in a way that both children and adults can relate to. The series is showing young audiences that no matter how they look or who they choose to be, they are worthy of love, respect, and a starring role in the stories they adore.
Join She-Ra in fighting the good fight – and forge a #BalanceforBetter in the world.
Balance For Better Activity Fun
DreamWorks Animation has also created resources and activity sheets for parents, teachers and caregivers to utilize in reinforcing the important messages that International Women's Day aims to spread:
She-Ra IWD Video Discussion Guide – stimulate important discussion with children
My Hero Book – find your inner balanced hero
Balance for Better Labyrinth Game – call upon the strengths and skills of others
Heroic Support Pyramid Game – strive for greater balance in our world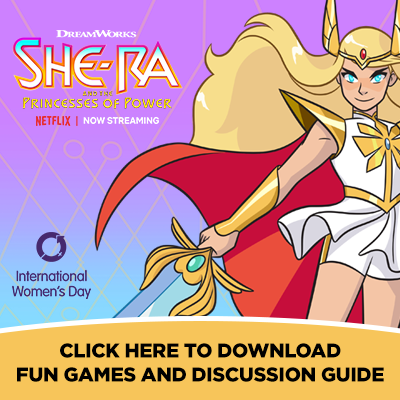 Committed to putting women's storytelling first, the new She-Ra is revolutionary because it celebrates that the majority of the characters are girls and they can achieve their best as well as anybody else can. She-Ra is full of many strong female characters who support each other. They can be flawed and make mistakes and come back together and be stronger together. Ultimately, She-Ra is a show about how different young women step up into leadership roles, learn about themselves, and make a positive difference in each other's lives and their world.
Join She-Ra and the Princesses of Power on Netflix.  Share your superpower on social media using #IWD2019 + #BalanceforBetter + #SheRa – and find your inner hero.